Patsy O'Connor:
The lonely grave of a Fianna scout .
By Jason Walsh-McLean©
It was during the Lockout centenary year of 2013 that I finally got around to reading Pádraig Yeates' seminal work on the subject Lockout – Dublin 1913. It had been purchased as a birthday present for me some years previously by my Mother.
Being a bit of a "trivia buff" when it comes to these things, I noticed upon completing the book that there was no mention of Patsy O'Connor of Na Fianna Éireann, whose name I had first come across many years previously in The National Graves Association 1985 publication The Last Post were it stated on page 39 "Patsy O'Connor of Na Fianna Éireann, died in 1915 as a result of wounds received during the strike"
I was also intrigued by the fact that his name does not appear on the plaque in the foyer of Liberty Hall which commemorates and names the Lockout Martyrs. – I decided to research this young man and try to find out as much as I could about him.
My first port of call was Pádraig himself, he told me the reason Patsy is not mentioned in the book was because he had simply came across nothing on          him during his research on the events of The Lockout which lasted from 26th August 1913  to 18th January 1914. Pádraig encouraged me to research him further.
I decided to try and ascertain his exact date of death and where he was buried. Knowing that The Irish Volunteer weekly newspaper was available online, and that it gave its back page to a regular column entitled "Na Fianna Éireann – National Boy Scouts" which reported on the activities of the Fianna. I began to study each edition from its inception on 7th Feb 1914 up to its last issue on the 22nd April 1916.
I located a full page obituary for Patsy in the edition for June 26th 1915 entitled Lieutenant Patsey O'Connor (Patsy was spelt Patsey throughout the article) which announced his death, though not its date and also stated he came from Harold's Cross and that he had joined the Fianna in Camden Street "nearly six years ago" and was "then about twelve years of age" and that by the time of his death he was he was the Lieutenant in command of the Fianna Inchicore Sluagh.The unnamed author of the obituary who was in fact Pádraig Ó'Riain, informed the reader that both he and Patsy were involved in the Howth gun-running in July 1914 stating "Right well do I remember his gallant stand last July when we came into conflict with the police and military on the road from Howth. He was by my side when the police swooped down upon our ammunition cart that on that day."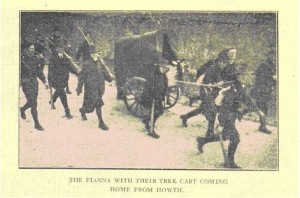 A photo of the Fianna with that very ammunition cart appeared a month later in the July 24th 1915 edition of The Irish Volunteer.