Under One Roof – Plaque to Newspaper Editor and Labour Leader
A commemorative historic plaque will be unveiled  this weekend at the birthplace of former newspaper editor Douglas Gageby  [he edited the Evening Press and later The Irish Times] and the former residence of trade union leader Jim Larkin [founder of the ITGWU, now Siptu] , in Ranelagh, Dublin 6.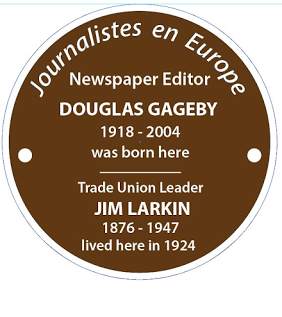 Participants will include Jim Larkin's grand-daughter, Mrs Stella McConnon; members of the Gageby family; Siptu president Jack O'Connor; Prof. John Horgan; and local historians. James Connolly's great-grandson and local historian, Jim Connolly Heron, will also be  there.
The project has been funded by former Irish participants in the Journalistes en Europe fellowship programme in Paris. Mr Gageby had served as a member of the Journalistes en Europe Council.
The event is at:
54 Beechwood Avenue Upper – Ranelagh – Dublin 6

 at 2.30pm 

on Saturday,  14th January 2017