HEADSTONE TO BE UNVEILED TO EIGHT YEAR OLD VICTIM OF EASTER RISING IN GOLDENBRIDGE CEMETERY, DUBLIN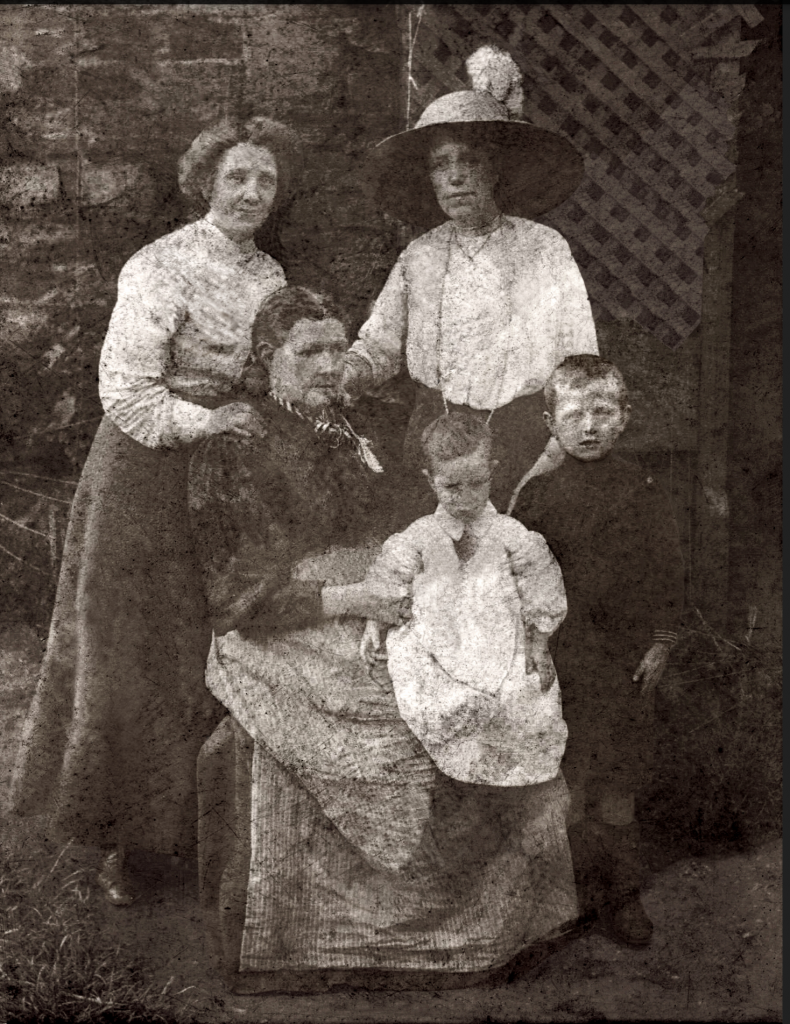 Eugene is standing on the right
AFTER 101 YEARS THE UNMARKED GRAVE OF ONE OF THE 40 CHILDREN KILLED IN 1916 HAS BEEN DISCOVERED AND A HEADSTONE WILL BE UNVEILED IN GOLDENBRIDGE CEMETERY ON FRIDAY MORNING MARCH 23 AT 10:30 AM.
A headstone is to be erected on March 23rd, to mark the grave of Eugene Lynch, one of the forty children killed during the 1916 Rising. He was 8 years and 9 months old when he died 'from the effects of a bullet wound', on Friday, April 28th, 1916.
Burial records from Goldenbridge Cemetery (Order 30241) revealed the tragic details. Joe Duffy, author of Children of the Rising, traced the details of Eugene's death with the late Shane MacThomais as part of his continuing research into the forty children killed in Easter Week 1916.
'I have found very little information on the life of young Eugene, but the details of his burial are starkly clear', Joe said. 'He was interred in Goldenbridge Cemetery, Inchicore, across the road from his home at 4 Vincent Street, Inchicore, on Sunday morning April 30th at 11 am.
'On Friday April 28th, Eugene was playing near the front of Richmond Barracks, beside his home. Locals tell me that the story in the area is that Eugene and his pals were kicking football when a soldier on sentry duty discharged his rifle. The bullet hit Eugene and he was carried to his grandmother's Public House, McGrath's, nearby.
'He died on a table in the pub and was buried two days later, on Sunday morning at 11 am.
'His coffin was less than five feet long and just over a foot wide. He was survived by both his parents, Joseph, a clerk and his mother Annie. The internment cost £2.
Joe found the burial record for Eugene with the help of the late Shane McThomais, while researching his book and a makeshift memorial was erected with the help of local school children. Now, with the help of Glasnevin Trust, a full headstone and memorial to Eugene will be erected, along with the names of others buried there, including his mother and grandmother.
The grave lies just behind that of two former Taoisigh , W.T Cosgrave and his son Liam.
Declan O'Rourke will perform his award winning song, 'Children of the Rising', which he composed to remember the 40 children killed in Easter Week 1916, at the ceremony.
There will also be performances by young people from Our Lady of Lourdes National School, Inchicore, Mercy Secondary School, Inchicore and Scoil Mhuire Gán Smál, Inchicore.
Members of Eugene's family, including his grandniece Irene Lynch will be in attendance.
Minister of State Catherine Byrne, who is a TD for the area, will give the address and unveil the headstone.
Tidy this up- lots of different points. Something more along the lines of I have searched and searched but can only get to the burial of his grandmother in the 60's.